Let's talk shoes, and men please don't judge the women in ur life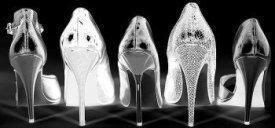 •Over half of women own more than 10 pairs, and 13 percent have more than 30
pairs. That's not including athletic shoes.
•Women typically buy three pairs a year, and on average spend $49 per pair, but,
nearly one-third have spent more than $100 on a single pair.
•Almost unheard of even five years ago, online shoe shopping is now a "national
obsession," with a third of women regular online shoe buyers.Zappos.com, for instance,
says some of their top customers "spend well over $10,000 annually."
•About one in five women go shoe shopping just to cheer themselves up.
• While 86 percent of women say they tell their significant other about shoe purchases,
14 percent admit to "hiding at least one purchase."
As for the kinds of shoes women are buying, most prefer low-rises, but occasionally go
for height. Almost 40 percent say flats are their favorite, 8 percent wear heels over 2
½ inch high on regular basis, and one quarter of women wear 4-inch heels for a special occasion.
About half of women bought an "ugly" pair for comfort, but more women lately are
willing to withstand pain for fashion – 60 percent vs. 49 percent in 2007, and 6 in 10
women carry a backup pair to change into after a party or event.